Last year, I researched a ton of different publishing options, and reached out to a dozen or so publishers through my literary agent, Professor Joseph M. Peck.
Most of them either didn't reply or replied with a quick "No thanks", although I ended up working with a couple of them for a few months before things fizzled out (e.g., "It doesn't fit with the direction we're taking").
My thoughts began to turn to self-publishing as a way to get the book out to the yearning public…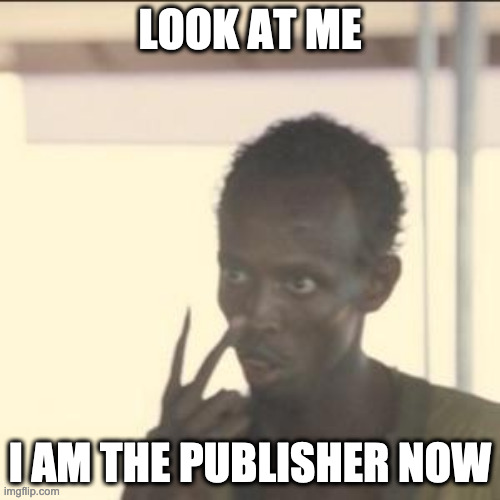 Anyhoo, a few people sent me this Twitter thread by Vlad Mihalcea (@vlad_mihalcea) where he detailed how he wrote and published his technical book. After checking it out a bit more, I decided to give ol' Leanpub a shot yesterday.
I was crestfallen to learn that they recently got rid of their Google Docs writing mode, since that's what my whole book is written in. But, in the true American spirit, I hoisted up my bootstraps and began figuring out how to get my book from Google Docs into Leanpub.
I found this handy Docs to Markdown extension, and started using it. It mostly seems to work, but once I get the files into Leanpub, the real "fun" begins.
Some crazy formatting happens; smart quotes get turned into wacky characters, question marks get weird, and oh lawd the footnotes. It's taking more time than I'd hoped to get the footnotes working (for example, it keeps adding two footnotes to a spot where I'm only specifying one in the markdown).
That being said, I'm not about to give up on Leanpub yet. Parts of it seem to work really well (although I'm not able to scroll with a mouse in writing mode), and I think once I figure out the footnotes it'll be smooth sailing 🤞
If you have experience with Leanpub, or another publisher, por favor let me know!